Summer is in full swing here in Orange County and that means lots of ice cream. July 21st is National Ice Cream day and Audi Fletcher Jones is here to provide you with the best ice cream shops around town.

SOMISOMI

640 Spectrum Center Dr.
Irvine, CA 92618

SOMISOMI is a quirky and personalized twist on your classic ice cream experience. They offer irresistible Korean inspired soft serve in a fish shaped cone. Try their samples to find the best flavor for you! You can even get your cone filled with a sweet treat. We recommend Nutella!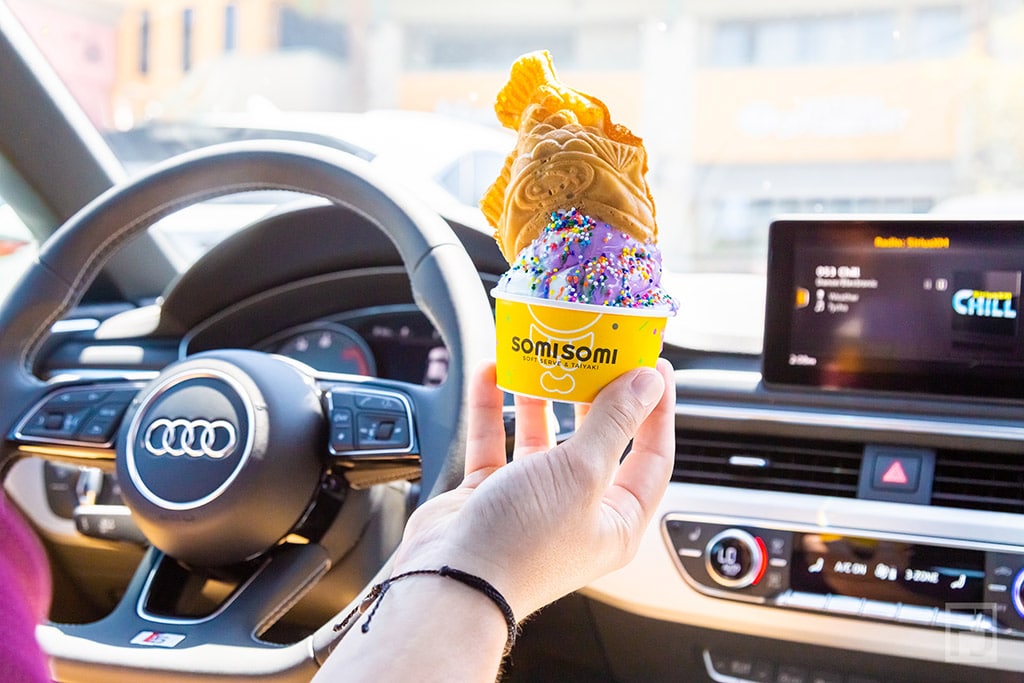 Dad's Ice Cream

318 Marine Ave
Newport Beach, CA 92662

A Balboa Island favorite, Dad's is known for all things sweet. They have a variety of delicious and classic ice cream flavors along with their famous Balboa bar. If you aren't an ice cream person, but still want something sweet, try their chocolate dipped banana! We promise no matter what you order, it will not disappoint.

Han's Homemade Ice Cream

3640 S. Bristol Street
Santa Ana, CA 92704

Since 1972, Han's has been a homemade favorite. Their freshly made ice cream uses only the richest cream from local dairies. Every bite you take will be dense, creamy, and filled with heaps of flavor. Our favorites are Butter Pecan and Cookies & Cream! Visit one of their 3 locations in the OC area.

Mr. Matcha

12926 Main Street
Garden Grove CA 92840

If you keep up with food trends, you know matcha ice cream is all the rave. It combines the drink favorite with the best savory treat. Mr. Matcha serves the delicious soft serve in a black charcoal waffle cone. We recommend trying the green tea and sesame soft serve combo!

Sprinkles Ice Cream

944 Avocado Avenue
Newport Beach, CA 92660

Widely known for their cupcakes, just a few years ago Sprinkles opened their ice cream shop right here in Newport Beach and we could not be happier. They make the most irresistible ice cream, just like their cupcakes. There are so many options to choose from that they rotate flavors every day! Some flavors available every day are Cap'N Crunch and Cookie Dough. We recommend checking the website to see which flavors are available for the day you visit!

Chunk 'N Chip

201 E. 4th Street
Santa Ana, CA 92701

Family owned businesses, just like Chunk 'N Chip, always keep the Fletcher Jones family wanting more. This ice cream shop offers fresh, simple, and premium ingredients with no artificial ingredients! If you just cannot decide what to get, you cannot go wrong with their craft ice cream sandwiches. It includes an oven warmed chunky cookie with a sweet scoop of ice cream.

Popbar

2930 Bristol St, Suite A108
Costa Mesa, CA 92626

Popsicles are more like ice cream's cousin, however they are still a perfect summer treat. Popbar specializes in custom popsicle bars. You can get gelato, yogurt, ice cream, or sorbet on a stick. Choose from one of their many flavors in addition to a dipping sauce! We recommend pistachio dipped in dark chocolate.

Visit Audi Fletcher Jones

After getting your sweet fix, stop by Audi Fletcher Jones to find your dream Audi! We have sweet specials on your favorite vehicles all summer long. Don't forget to check out our all-new Audi e-tron, an all-electric vehicle perfect for summer road trips!